INFINITI Dependability
INFINITI IS THIRD IN JD POWERS VEHICLE DEPENDABILITY AMONG PREMIUM LUXURY BRANDS
INFINITI Has Greatest Increase Among 31 Brands In Auto Industry in 2018 Study
J.D. Powers and Associates is the most recognized name among survey companies for customer satisfaction in North America. They have released their 29th annual U.S. Vehicle Dependability Survey on automobiles and INFINITI saw great improvements in their rankings. The rankings are calculated by the number of problems experienced per 100 vehicles (PP100) and includes 177 specific problems, organized into eight major vehicle categories. The 2018 study looked at three-year-old models in 2015 model year.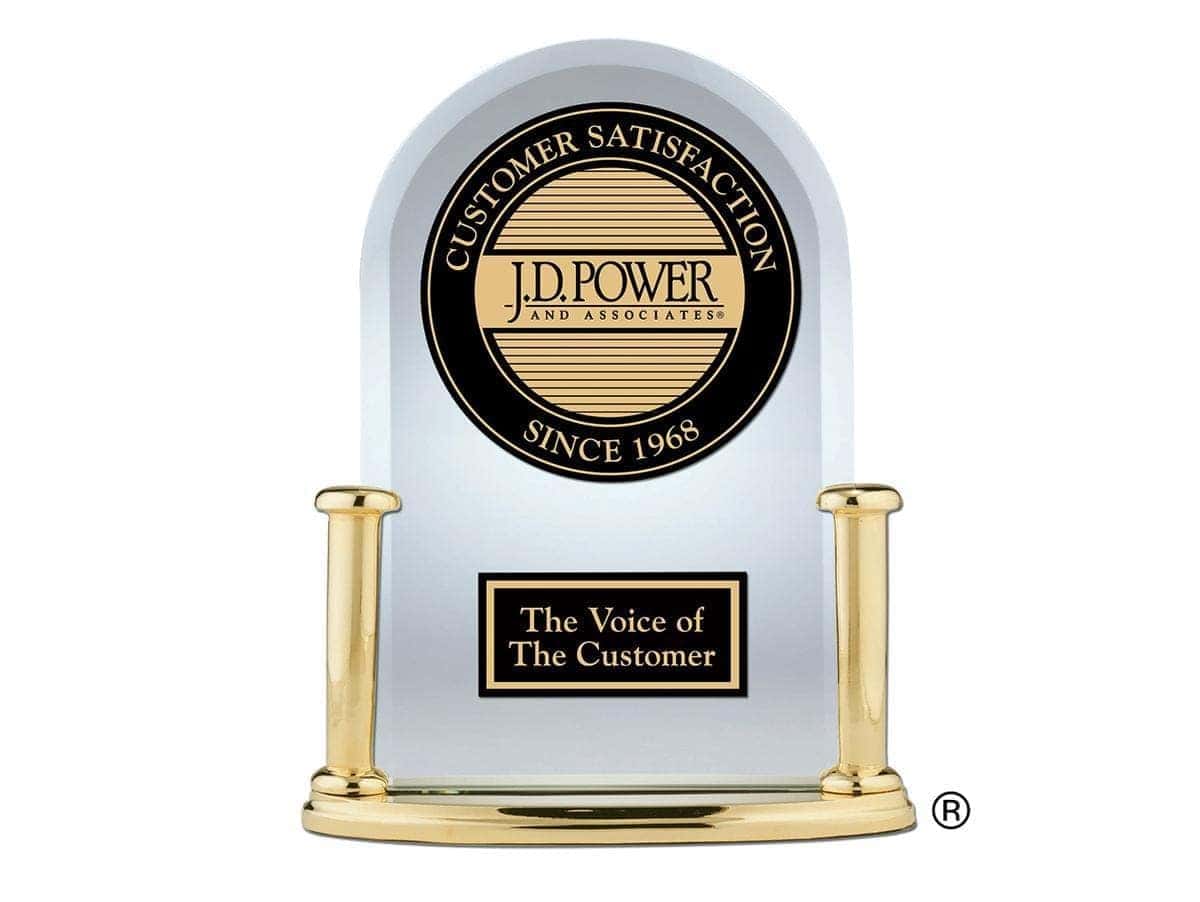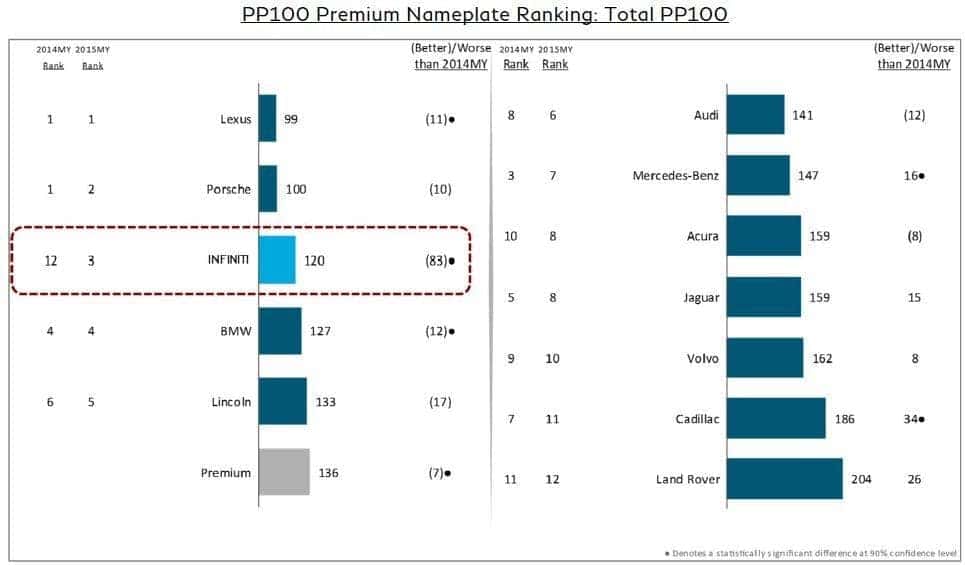 In the 2018 Vehicle Dependability Survey, INFINITI ranks 3rd among the premium brands. This was a great improvement for INFINITI, moving from up nine spots from 12th place in 2017. INFINITI achieved an overall reduction of their problems per 100 vehicles by 83 points. This was a 40% reduction in overall issues. INFINITI saw the greatest gain in lower PP100 in the Engine and Transmission Category.
By moving up to 3rd in the rankings, they performed better than BMW, Lincoln, Audi, Mercedes-Benz, Acura and Volvo. Vast gains were seen in the INFINITI sedans such as the INFINITI Q40, Q50, Q60 Coupe and the flagship Q70 and Q70L sedans. The Sport-Utility Vehicles in 2015 were the QX50, QX60, QX70 and QX80.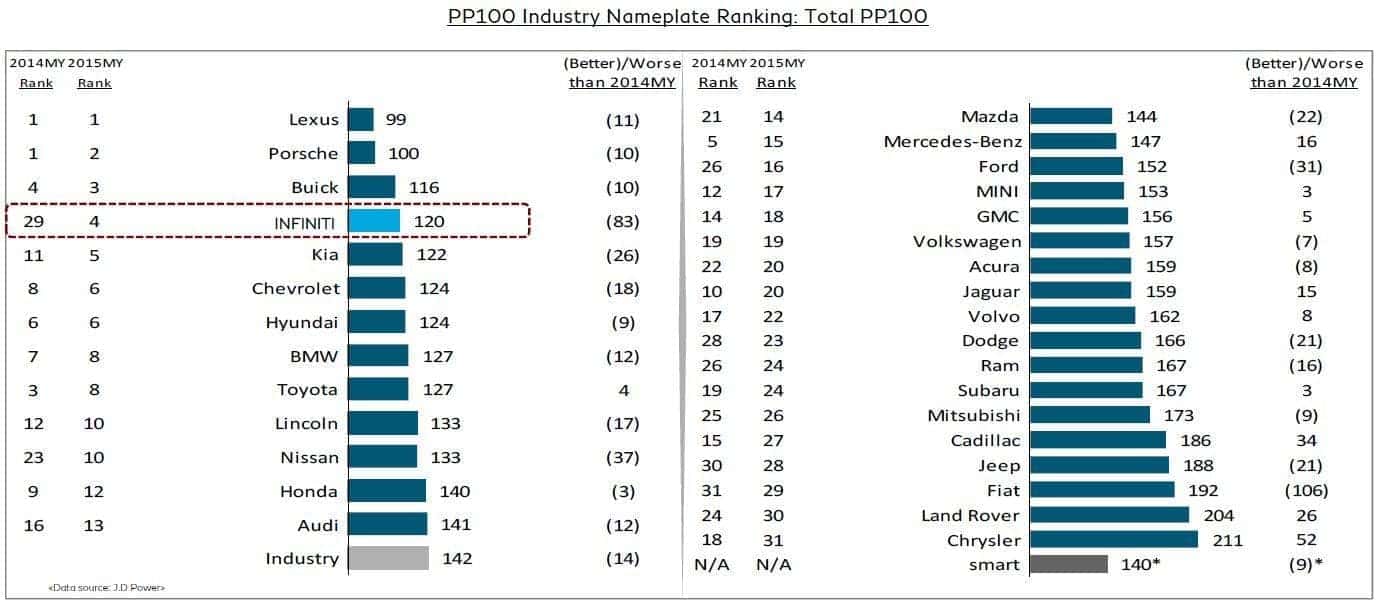 In the 2018 J.D. Powers Vehicle Dependability Study, INFINITI as realized the greatest improvement of any automotive brand in the United States. Out of 31 brands in 2018, INFINITI took 4th place, an increase of 25 spots from 29th in the previous study. This was again due to the decrease of 83 problems per 100 vehicles, resulting in a higher ranking over domestic brands such as Chevrolet, Ford, Lincoln, GMC, Dodge, Ram, Chrysler and Jeep. This ranking also kept them ahead of other import brands Nissan, Toyota, Honda, Mazda, MINI, Subaru and Fiat.

INFINITI vehicles saw great improvements in all eight categories that the PP100 rankings take as factors on reliability. The category of ACEN (Audio/Communications/Entertainment/Navigation) saw a 13.5 PP100 decrease. HVAC (Heating/Ventilation/Air Conditioning saw a 6.5 PP100 decrease, while Engine and Driving saw a 12.3 and 7.2 decrease respectively. All these categories combined gave INFINITI the 83 PP100 reduction to boost it's ranking up for the greatest gain among all 31 auto major auto brands in the United States.
2018 Vehicle Dependability Study Methodology:
J.D. Powers surveyed original purchasers and lessees of 2015 Model Year vehicles in a randomly-selected national sample. The survey was limited to personal-use vehicles that were still owned by the original purchasers or lessee during the registration time period of September 2014 to February 2015. The survey was conducted from October to December 2017, with a return target of 200 samples per model. The data was weighted to reflect retail sales during the registration time period. The study included 225 models (156 rankable) and 32 automotive brand nameplates (31 rankable). 36,896 respondents were received. All information is and the J.D. Powers Trophy are copyrighted and registered trademarks of J.D. Powers and Associates.